Bootcamp Basics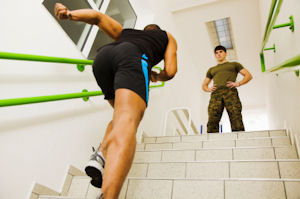 Fitness Bootcamps are all the rage thanks to their popularity on TV programs like the Last 10 Pounds and the Biggest Loser, but what makes these Bootcamps so effective? The term Bootcamp refers to a military style of training that was originally used to kick start a soldier's fitness. Fitness professionals and personal trainers have recently taken this movement to another level by using the same techniques to kick start the average person's fitness regime.
If someone has never been physically fit before or is used to the same old routine and is no longer seeing results a Bootcamp is the perfect style of workout to lose weight while gaining endurance and strength. One of the reasons that Bootcamps work so well is because in most cases you have to sign up for a number of weeks or a number of classes. People are more likely to attend if they have paid up front for a program and if they have booked in for a certain amount of time. On one level they don't want to see their money go to waste and on another level they know that the program has a definite end to it. Another reason is that typically the classes are filled with like-minded people who share similar fitness goals and help to motivate each other.Why choose a Bootcamp instead of just getting a gym membership? First of all, Bootcamps will be lead by an instructor. A motivating, knowledgeable instructor can make all the difference when trying to lose weight or get fit. You'll get more out of the workout if someone is setting the exercises for you and watching to make sure your form is correct. We tend to be a little more lenient on ourselves and won't push ourselves as much as a qualified instructor will. Attending classes also makes you more accountable than just having a gym membership. Other people and the instructor are expecting you to be there. Gyms can also be intimidating for beginners or for those who are unsure of how the equipment works. Working out on your own can be repetitive, long and boring which increases your chance of giving up. You're also more likely to plateau by repeating the same workouts over and over again.Bootcamps are great for any fitness level because you work as hard as you can at whatever level you are able to. The workouts are fun and change constantly to combat boredom. They will usually encompass a number of fitness disciplines like cardio training, strength, flexibility, endurance and many others. You can expect to do circuits or interval training, running, rowing, jumping, lifting and carrying weight and some kind of obstacle course. Most programs will start with an assessment that will include weight and measurements as well as a baseline of your fitness level. Your progress will be charted throughout the program and there will be a re-assessment at the end to see your results. This also creates accountability and becomes a motivator for you to stay on course. Along with the exercise portion of a health plan a bootcamp instructor will also assist in your nutrition and give you pointers on health eating to lose weight or maintain a healthy weight.

What should you look for when choosing a Bootcamp? First you want to make sure you find a reputable instructor with proper qualifications and experience and they should suit your personality or goals. Every class will be different, so if you want to be motivated by being shouted at then choose a military style bootcamp. Otherwise look for something that suits your goals, like a bikini body bootcamp or a brides bootcamp. Also look for studios or gyms that have proven results. Ask around or read testimonials. There are many things to look for in a Bootcamp. If you like the outdoors then opt for one that's held in a park or on a beach. Yu may want a more one on one approach so look for smaller classes or one that limits the number of students that can attend.
Bootcamps do work but only if you put 100% into it. They are challenging, fun and can make you as fit as you want to be.